The landscape is more powerful than most. We cycled through vast horizontality; undulating ancient sea beds and were profoundly moved by the contrasting verticality which meets us in the Alice Springs surrounds. The MacDonnell ranges has a demanding presence, passing through the gap we're left speechless. Layers of eroded angled strata saying all.
There is an intensity to this place that makes you sit up and take notice. The scale of Alice is graspable by one mind, tantalizingly tangible, you can hold all the complexities and contradictions by their threads and understand how one action reverberates through the web of repercussions.
Place
22nd - 30th July 

Alice Springs (Mparntwe) lies in-between Australia's deserts. Snug, just out of the ecological boundaries that define Australia as the driest inhabited continent. The rugged hills that encircle Alice are part of an ancient mountain range that has defined in-habitation for tens of thousands of years.
The reason for the name "Alice Springs" was not a spring but a lady named Alice, a stagnant pond which gets caught at a bend in the Todd River and some granite misnamed by white settlers. An Ironically appropriate name for what is now Australia's frontier territory where ignorance has led to much complexity.
The town is defined by the surrounding geography, axis's decided and shot off prominent features almost on the cardinal points. Following the Todd River, it is so prominent the town is divided east and west of it, sacred hills dotted through the town are part of the ancient dreaming of the Arrernte (pronounced Ahrunda) people, the traditional owners of this land. Geography for us gained prominence when we began to map the layers as we usually do. Curving desert edges lined up with language group boundaries and geographical formations defined space in opposition to our orthogonal division of space as white fellas. The land is telling of so much out here.
Alice Springs physical bounds are dictated by landscape but the vibrant cultural and social bounds are much less tangible. Its location and density of services mean the footprint for the city stretches way into the western deserts, up the Stuart Highway and drifts down through the Flinders ranges. A town of 24,000 with a footprint of a sprawling metropolis.
Isolation and remoteness geographically define Alice Springs (AS) as the centre. In most other aspects though when you come to engage with the place, it seems to be on the edge. On the edge of black and white, culture, language, social welfare, poverty and wealth, education and health.
People
Alice Springs is on the traditional land of the Arrernte people whose language is still being taught in school and colleges in and around the city. We learnt there are only three fluent speakers of the southern Arrernte language left. Telling hey?! According to one very touristy website currently there are up to 25% of the Alice Springs population who speak Arrernte as a first language. English at times is not a first or even third language for people.
It is clear the proximity to Indigenous Australia is why many people are attracted here, the frontier country where colonization is still playing out and apartheid is apparent. This manifests itself in the diversity of people who choose to inhabit Australia's red centre. Indigenous & white fellas are struggling with their position in culture, heritage, society and themselves. An indigenous university student proclaims that "all white men are dogs" whilst fighting for black equality. Visionary artists whose half century long stint in Alice has taught them to cover their tracks whilst moving in the background of white policies and grassroots movements.
Alice holds a certain vibrancy and intensity to life which we are told is hard to replace or find elsewhere. Seeming to have a high transient population, the town is seasonal where throughout Christmas (the 'off season') the mall turns into a ghost town. When asking many people if it was 'addictive', they agreed with many admitting some 30 years later they had only intended to only stay a little while.
We were told Alice holds the highest percentage of tertiary educated people after Canberra and sustains a gargantuan lesbian population (in number not physical scale). What a claim to fame, and what a place to be! Bobbie expressed numerously she had never experienced such a high level of strong minded, ambitious and successful women in a diverse range of careers. Perhaps as a result of this saturation of interest in Indigenous affairs there is a conspicuous lack of anywhere to engage with Aboriginal people.
David Havercroft (Tangentyere Design)
The legendary Andrea Nield put us in touch with David before arriving. Even then he showed great interest and was quick to assume an integral part in weaving us into the network of Alice. Upon arrival it continued in the physical. David is almost an architect, writer and initiator. A genius master networker. Somehow amongst all else he manages and intellectually ponders, he holds a profound ability to keep tabs on everything and the movements of everyone and the dealings between individuals, NGO's, companies and oddly cat herders. He rattled off names, suggestions, resources, historical happenings, and books and helped us with route options as we exhaustively noted away and tried to keep up…. The entire week. He was instrumental for our success throughout the week and the plethora of contacts we were able to meet up with face to face or through email chains.
Kieran Finnane (Journalist and wonderwoman, Alice Springs online)
One of these strong women we are in admiration of. A force to be reckoned with and a literary genius. Reporting this frontier country and all it entails to the world, her work is invaluable and possibly the only of its kind. There was an incredible sense of wholeness to her presence, as if time was never pressing (when in fact 'time' for a journalist must be a continually pressing concept). Each question was received with great thought and a considered response. We both agreed a rare asset to possess and one we had not experienced in the trip particularly in a journalist. Giving us huge insight into Alice, its people and its happenings she patiently and willingly entertained our hypothetical prodding and ridiculous un-articulated questions. Vividly, she spoke of the value of relationships and their accumulation in informing her life, perspectives and work.
In return she wrote an excellent article and returned to watch our presentation & exhibition after which she wrote another one!! Wacko! To be the receptor of such work and genuine presence is a privilege.
Meryn Shaw (Youth Worker & Coffee Roaster)
Staying with Meryn for our time in Alice we were introduced to the realities of being a Youth Worker. How incredibly undervalued and demanding we came to the conclusion. These people caring for the welfare of and shaping our future generations are required to have the emotional resilience, patience and tolerance of a robot, engagement skills of a baby sitter, and hugely flexible working hours intertwined with in depth cultural awareness and understanding. What a complex space to navigate and operate sanely in. And on top of that she is an apprentice coffee roaster, further a part of the cultural future of the city. Hats off to you Mez.
Stephi Rainow (Director of Healthabitat, Public and Environmental Health Officer for Nganampa Health Council, UPK Program Coordinator & Certified Mad Dog)
Through Owen's previous work with Healthabitat and contacts around the place we had heard of the mysterious Stephan Rainow through whispers and legends, contacts seemed apprehensive about how to approach contacting him and so, we rang with much trepidation. Going to see him at his office on the industrial edge of Alice (in the same complex also was NPY Womens Council & Tjanpi Desert Weavers) we met an incredibly warm, welcoming and knowledgeable man whose life time of work is all in one job, "I've got a very boring resume" we were told. Stephi's approach to indigenous affairs was refreshing, his approach is to build a solid base that people can launch from. He sees his work as doing this through the improvements to the living environments or education (they have made five albums about healthy practices such as showers, toilets and the like). The idea of culturally sensitivity is an under current in his work, he is not there to save the culture, that is not his job, he is there to treat people as people and make sure their dunny works. We were lucky enough to see some of his catalogue of early drawings by Paul Pholeros, the jokes, the failed film story board and the A3 sized UPK report to ensure that it inconveniently stuck out of bookshelves!
Mike Gilliam (Photographer, entrepreneur, renegade and advocate)
A renowned photographer and artist Mike is passionate about Alice and its potential for the future. His place at Hele Crescent is a bohemian hub in an industrial section of town. The "Coffee Horse" serves up banging beetroot chai's (Bobbies favorite), light lunches and tasty treats that are devoured by the east side dwelling "greeny" workers from the CLC who are more than happy to escape the confines of the office and sit opposite a tyre repair shop for their mid-morning latte. Mike has made a place beyond culture though, his true passion lies in places that attempt to make landscapes and ecologies healthier than when he found it. His rear property line instead of being built has been opened and is encouraging the natural water shed down the sacred mountain to take its natural course. A large ditch at the back of the site, retains this run off (rather than sending it to the street) and absorbs it into the site. It's about allowing the water to move slowly. Driveways slope to soakage and trees provide shade for people and animals. Crazy! Mikes generosity of time and enthusiasm for design was contagious. Sharing years of knowledge at a semi-automatic rate Mike made our note taking hands ache and our brains strain.
Stuff (Architecture)
The introductory comic for our exhibition says it perfectly.
Upon cycling in we were taken back by the fences. The amount, height and the fact that many were highly considered. They're actually thought about, razor wire and all (for you non fence aficionados this is rare). Whilst this was a first impression, as the week progressed and conversations transpired the edges of Alice became more and more powerful. Material transport is a huge factor as with any place existing in isolation, most materials and supplies imported from Adelaide and Perth.
There is a conspicuously absent 'grey', common space where black and white people can hang out. Pubs and youth clubs are segregated and there is a growing fear of night.
Alice is a city on edge. The green edges of the town are inhabited by the indigenous mobs or occasional European tourists without the pre-conceived ideas of edgy situations. The new gigantic law court building defines it's edge with dark glass and neck hurting proportions. The old law court has a grass edge across the street that acts as a waiting room. Geography creates edges that are then inhabited by people who want the perceived safety from the more edgy characters of late night Todd Street. Attempts at making troublesome spaces 'friendly' are enthusiastically embraced by council and the infrastructure team with many lovely benches and 'place-making' being built into the street fabric. Actual inhabitation of these spaces is limited and restricted to the 9-5 workday.
Pockets of innovative thinking are manifest in front lawns, industrial estate cafes and failed storm water retention schemes. All of these hint at the complex and talented matrix that underlies Alice's architecture.
There are 18 housing associations throughout the town known as 'town camps' often on special purpose government leases where their location is dictated by direction of traditional lands. Each town camp typically comprises a distinct Indigenous community based on language and kinship groups where residents often have strong links with remote communities hence a great deal of mobility. It is said although there have been undeniable improvements in living conditions from illegal squatters to land tenure, humpies and tin sheds to houses, living standards still remain unacceptably low. Issues persist with quality and maintenance of housing, health, education, employment opportunities and self determination. (Tangentyere Council)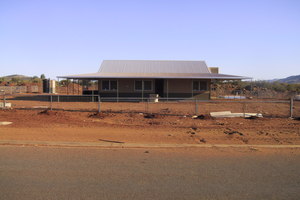 Exhibition, Friday 28th July 2017.
Soft edges, hard edges? Why look at edges?
Due to great timing and no other reason we were in Alice Springs at the same time a 2 week intensive University of Newcastle (UON) elective was running. In fact many of the students are our fellow peers and cohort along with Chris Tucker as mentor & coordinator. They took on the mammoth task of tackling projects concerned around housing in town camps, youth and communities under the guidance of Tangentyere design. Considering we were told on countless occasions to make change one must be around at least 10 years these guys presented some well-considered & sensitive suggestions to tackle some of the problems at hand.
A presentation and critique session was organised for the students, much more formal and organised than the air our presentations tend to take. At the acceptance of Tangentyere they allowed us to present at the end of the day – to make us feel somewhat more comfortable and informal we took up presenting our work in the walkway outside the shop instead, on the edge – just as the topic of our presentation took. Easy and lucky for us the large audience hung around and listened to what we had to say about edges, bearing through the loud foot traffic and drag of tables at end of business.
And so, the title of this exhibition takes this into its stride.
Unfortunately feelings of fear, issues of security (perceived or real) and safety is exercised into the fully or part definition of impenetrable private space creating a massive divide between this and public space (also known as a house fence). We noticed it not only in residential areas and began to analyse edges, of the greater edges of landscape and community. Follow the link to get your offensive and edgy architecture fix!
Check out the second article written by Kieran Finnane in the Alice Springs News as a reflection of our exhibition - HERE!
Suggestions
· There is a critical lack of edges for cultures to intermingle on a voluntary basis. Where activities are based on mutual enjoyment and livability.
· Consider edges to co-exist and inter-mingle for everyone for fun
· low permeable fences over tall solid fences
· Engage with your front yard, this further reduces the need for fences
· What would happen if we removed the fences and built an edgy centre where lots of things could co-exist....?
· Use public space in conjunction with private spaces for informal gatherings, meet ups or a wrestle
· Keep water on site and in the ground, slow it down. Encourages animals, greater biodiversity, healthier plants, better air, less bushfires.
· Ensure geography is respected to maintain riparian corridors, promoting vibrant and healthy life
· Keep things at the human scale....low, less than 5 stories high
· If the ground floor is rich, the city is rich (thanks Jan Gehl!)
· Night is as important as day. Businesses and spaces with mixed function that cover the hours of the night will ensure public presence and eyes on the street increasing security, reducing crime and fear.
In-between (in reflection) Alice – Wallace Rockhole
A short stint of only 120km or so, but we took it slowly. At one point adopting a dog Millie for 12 hours, from sunrise (pic above) she waited for a stick to be thrown. Through Arrernte country, we followed the MacDonnell Ranges on our left shoulder out of Alice and cut south as does the tending watercourses through to Owen Springs reserve to reach the gravel entrance road into Wallace Rockhole. Overwhelmed by the geology of the ranges, ridges resembled dinosaur backs, the red perpetuated.
Lined with Mallee shrubs we arrived upon a crest about halfway down the entrance road. Looking forward, appeared the red stained James Range and behind us the deep blue hued Western MacDonnell Ranges. This book end created a powerful sense of locality.
Horse poo was everywhere, an introduction to what was to come. We cycled into the small town, "Tidy Town winner" signs dating back to the 80's stood proud. The kids on the basketball court of the school all stared in amazement at our heavily laden bikes, waving and returning "hellos!" Into the shop/camp ground, "we're here to stay for a week", the owner looked amazed stumbled backwards a little and the shop assistant exclaimed."It's going to rain…"
Edited by the fantastic Jen Richards
Cheers,
Dusty & Thirsty