PERMIT REQUIRED, PERMIT REQUIRED says the map at the CLC (Central Land Council). In reality permits are not required and the ongoing battle between community and Policy is fought somewhere in the tangle of red tape. The small indigenous community is only 117km from Alice Springs, down a 'dead-end' road, at the edge of the sand hill country and nestled into the red face of the James range. A once strong town caught metaphorically and literally in-between a rock and a hard place.
Place
02-09 August 2017

At the base of The James Range on a bed of sand, sandstone, siltstone and limestone deposits, Wallace Rockhole (WRH) essentially sits in the 40km swale between it and the Western MacDonnell Ranges.
Entering down the 18km gravel entrance road one arrives at a rise bookended by the stunning views of the blued McDonnell ranges to the North and the Red cliffs of the James Range to the south. The literal Wallace Rockhole was one of many waterholes that the indigenous people used in the area as part of their semi-nomadic hunter gather routes.
The 200 million year old James Range that creates an east west spine that Wallace Rockhole nestles into providing the gorges and channels that hold and funnel water for this country. This volcanic and igneous landform is an important geological and ecological feature that sustains inhabitation. The gorge behind the town is where its namesake comes from, Wallace Rockhole. Water in this landscape runs against the grain of the geology so this 1.5km north-south running gorge houses a string of waterholes. One near permanent waterhole, Thuiparta has supported human and animal habitation for thousands of years. The gorge houses engraved rock art known as petroglyphs. After questioning a Traditional Owner (TO) about three symbols pointing to the cardinal points he said the art was a part of a map directing traditional owners through the landscape.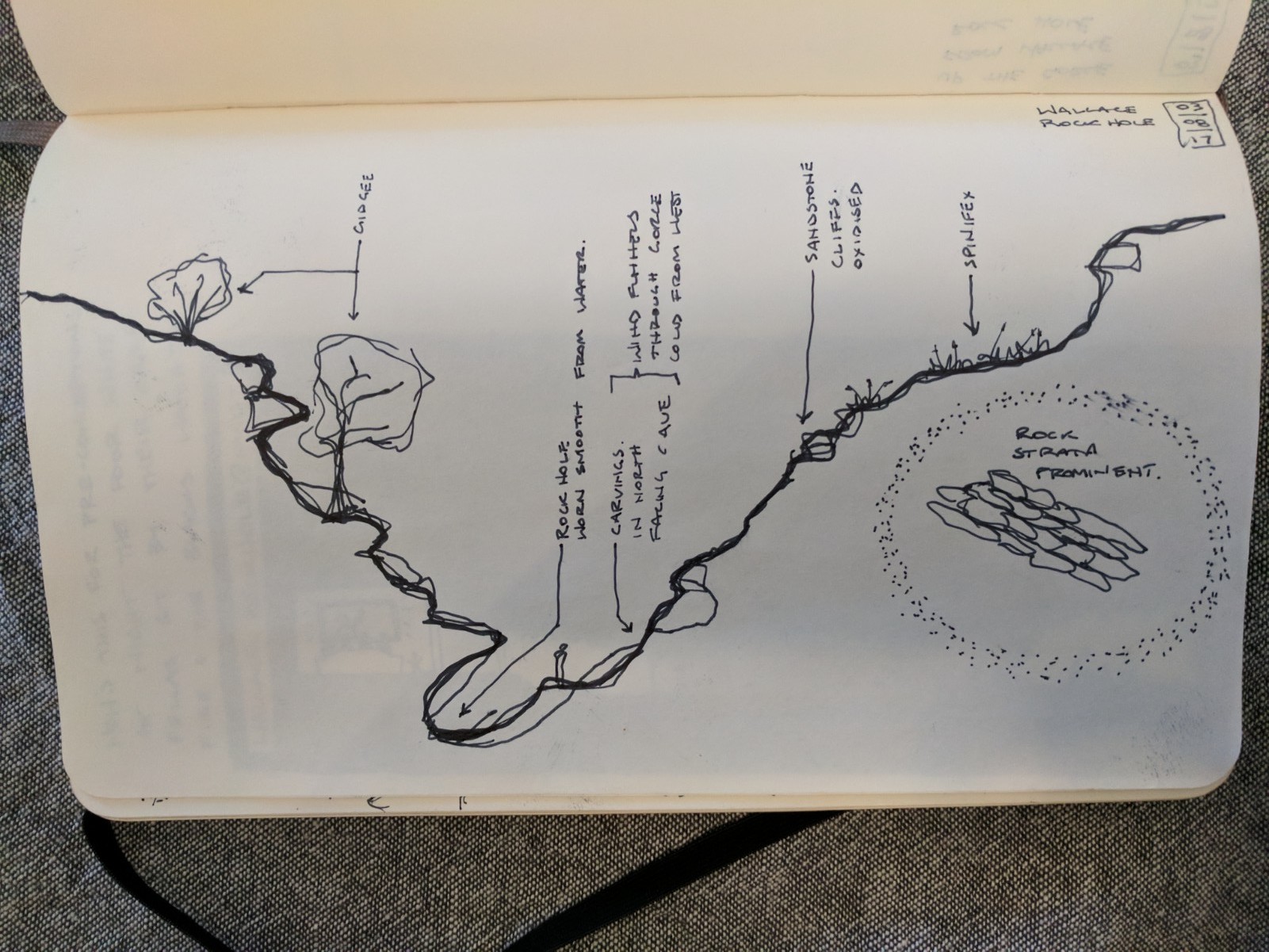 In 1877 the Lutheran Mission opened Hermannsburg Mission (approximately 40km's west of WRH) and ran a large cattle station to support the mission, on Western Arrernte country. Missionaries recognizing the demands of local people needing more involvement in the running of the mission, started working on developing local governance.
The 1970's saw the self-determination era and moves to hand the land back to its Traditional Owners under the Aboriginal Land Rights Act accompanying rise of the outstation movement. Hence, Hermannsburg land was allocated to landowning's groups through the declaration of five separate land trusts, one being Uruna where the Abbott family (Gordon & Ida, Gordon being a grandson of the TO) founded the town of Wallace Rockhole in 1973. Even without running water or sanitation, the family thrived.
Throughout the week we came to understand the history of WRH and the influence of government decisions and 'the intervention' over the small indigenous community. We became acutely aware of the feral animals which scatter this landscape; wild horses and camels, and the awareness and management around their presence amongst mobs of cattle. Often at sunset, herds of Shetland ponies would gallop through the streets and into people's front yards if gates weren't closed. We even got to catch some wild brumbies!
People
Located in the lands of the Western Aranda (variant spelling of Arrerente) people, WRH is still home to many from the Abbott family with an Indigenous population of 60-70 people (+/- 20-30 depending on what is happening in town). The local industries are the school, pottery, painting, general store, council office and depot and work for the dole (CDP).
Ken Porter
Marrying an Arrernte woman and traditional owner of the land, Ken has called Wallace Rockhole his community too since 1985. A member of it, a spokesperson for his fellow community members, their rights and fairness, he in a way continues to ensure its survival. Running his own tourism business, art centre and shop he provides an economy for the town. Locals help him run the shop, giving youngsters a start at employment opportunities.
Ken is acutely aware of the town's going-ons, he makes very, very little from a tiny mark up on vegetables and fruit as an incentive to good nutrition and his ears prick up to a new car or odd sound day and night. On a good day he switches between at least four job roles – from accountant to shop keeper, artist, farmer and overseer for the work for the dole program. We had the absolute pleasure of following the man around over the days we were there accompanying him on his runs to check cows and wild horses, bores over 50kms away, standing around whilst he fenced, picking his brains learning about culture, the past and future of the town and land.
Sue Brown
A semi-retired Queenslander carrying out her yearly stint of up to four months in the small town, Sue was one of the first people we met. Sue has been using her pottery expertise over the past seven years to build up the pottery studio in the community creating a comfortable and supportive community space for anyone in the community to visit and use, including school children.
In 2010 the community agreed to her pottery program with the stipulation "no government funding", knowing the effect of the constant change over of government on policy, funding and grants. She has crowd funded the program, raises over $10,000 each year and the pottery studio has just received its 3rd tonne of clay!!
Much like Sue, we have found the retired mobs trotting around our roads known as "grey nomads" to be incredible resources. The skill sets they hold are HUGELY valuable being typically from the generations of life long careers in single areas of expertise. With their willingness and generosity to share, help, check in on things and people in their retired years they are undervalued and underappreciated. A geriatric force to be reckoned with!
Angela
A talented and steady handed local lady who when not working as a teachers-aide is slaving away in the pottery making beautiful works. We were introduced to Angela (often annoying her with questions as she tried to focus on minute clay detail) in the pottery and came to appreciate her quiet sense of determination and skill. Deeply immersed in the town with family, the school, pottery and occasional tourism Angela's quiet competency is still challenged by the inability to get maintenance done around her house by the "super shires". The success of her pottery work is in part thanks to the passion and generosity of Sue's hard work with funding and sharing of skills. Having a fully resourced and supportive environment at hand has allowed people such as Angela to up skill and further their artistic abilities.
Stuff (Architecture)
Government supplied housing. Too hot in summer, too cold in winter, Bessa-blocks are prolific. The art center and its deep north facing verandah are the town's only informal community spaces. The store at the back of the space too acts as a community space, people passing and exchanging conversation. Commonly in these communities is the split work day – stores and shops are closed mid-day, the siesta time.
From humpies and tents to tin sheds to the now common brightly coloured Bessa-block housing, buildings here are not unlike those of other communities and outstations we've come through.
Remote community housing and land leasing and tenure arrangements with the government are ongoing in these communities, some up to 99 years. This often leaves authority over housing lacking with unacceptable and inferior construction, maintenance and repair regimes along with overcrowding not helping the problem.
Housing is often ill-considered and not designed particular for the place or harsh desert sun and hard bore water. Suburban solutions are fitted to these place where the nearest plumber or handyman may be 120km away due to the implementation of 'super shires' (in this case, the MacDonnell Shire Council) taking control.
In the 2007 intervention responsibility for essential services were taken away from the WRH community such as an operating service garage and mechanic taking local labour, trade and independence away from community members. Now a broken down car either stays stranded or a tow truck from 120km away is ordered, a week or so lost and weeks of pay or Centrelink allowance.
It's the same old story with the houses as we were told by a few residents circa 2007. Shoddy construction, fly screens with snake sized gaps and the dreaded red dust storms which is unimaginable until experienced (one night this wind blew relentlessly, while we tried to sleep dust was coming through our tent falling onto our faces, caking all belongings). If a tap leaks or toilet stops working residents are forbidden to touch it and try to fix the problem themselves. Calling the 'super shire' workmen (based in Alice) to fix one tap is unlikely to yield results and in that case you may be waiting weeks anyhow.
One resident shared her toilet woes; the toilet stopped working, ringing the 'super shire' they asked for her to send a photo. With no internet, mobile phone reception or even a postbox in the town it is impossible. Unwillingly someone came, yet couldn't find the septic system… so, no they couldn't do a thing about the toilet. These are concepts quite foreign to so many of us!
People still hold the idea that "Aboriginal's wreck housing". You would probably "wreck" it too if nothing got fixed, your toilet didn't work, your taps leaked and your doors were put on wrong.
Something we hadn't come across yet was the way in which power is obtained by residents; through a power card. Like a pre-paid phone credit, a paper card is purchased in denominations of $10, $20, $50 etc. and entered into the power box. Voila! (or, as the Australians say "Vwala"), no more quarterly bills which seems like a great option for the low income earner or those unable to put money away. But you've just got to hope you buy enough credit to last whilst you go away and the $5 emergency power button only works once.
Another card system used is the "Basics Card" introduced during the intervention and officially described as "A reusable card that gives you access to your income managed money through EFTPOS facilities at approved stores and businesses". This is mandatory for people (primarily Indigenous Australians, although apparently to be rolled out nation wide) on welfare payments to mitigate the buying of alcohol, porn and cigarettes. There was mixed feelings about this roll out into the communities with some people happy with it, believing it helped with alcoholism. Whilst others feeling like it created segregation and 'shame' for the users, the card being a distinctive green and only useable at approved shops. In addition it requires internet services and power (along with keeping all receipts for 7 years) for the EFTPOS system to work which can be problematic for an isolated town and shop. When the power is cut (surprisingly regularly) people who need to buy food have to drive 120km to Alice Springs and spend time and money on travel.
The school is one of the only other public buildings, a mongrel assortment of demountable buildings are shipped in bits and pieces from elsewhere. There has been schooling in the community since 1977, beginning in a tin shed it now looks much different. One overly large shaded outdoor play area space was a "waste of money" the teachers aid told us – another government addition. The kids don't really use it and it's not designed well so you can watch all of the kids at once. Three walls are blocked in which doesn't do wonders for the gusty wind and dust. Large air-con units and satellite dishes mount the demountable buildings trying to make up for what a lack of good design doesn't do.
Learning of all of this and experiencing these foreign concepts for us amplifies and gives more merit to the work of Healthabitat (see web link below) and what they achieved in remote indigenous communities and Housing for Health. Community discussion, local staff, and hardware that works, functioning houses, dust breaks – good health. Check it out, acquaint yourself with some real architecture. Fuck Yeah!
Healthabitat have been doing this work since 1985!! Have a look at this TED talk by Paul Pholeros for an overview of their work. IT STARTED IN AUSTRALIA!!
Exhibition, Thursday 9th August
Wallace Rockhole's population has many speakers whose first or even third language is not English and so we attempted to create an exhibition that is legible through graphics alone. It's a fantastic challenge trying to communicate in a universal language, we're slowly improving taking only the best ques from people who have done this superbly in the past, such as the late and great; Paul Pholeros and Leunig. Our approach was simply to document our conversations with people and the information we learnt from them about how they live and what influences it. From the day to day routines of locals, plumbing, house woes, town history and progression it was great to absorb knowledge and learn. Especially when many conversations prior to this were with 'whitefellas' working in Indigenous affairs who often mused that they "would love to see someone ask the (Indigenous) people what they think about their houses"…. Consultation, a crazy thought it seems.
The most informal yet. With no real space to present we 'borrowed' a board from the art centre and propped it up in the shop just above the blankets and around the corner from spanners and baked beans. Conversations about the work were few and brief but we found out later on that some of the locals were pretty chuffed that we had invested this time and effort into documenting these things in a way that was honest and that showed something tangible for the time that people put into us during our stay.
Suggestions
· If in doubt look at the Healthabitat website.
· If working somewhere, ask people from that place what they want and need. Honest, open consultation that doesn't reek of box ticking.
· Once things are checked, regular maintenance should be scheduled and enforced OR
· train and employ locals; skills training and building
In-between (In-reflection) Wallace Rockhole to Uluru
12th - 17th August
Heading to Uluru via the Stuart highway being overtaken by tour buses, caravans and road trains sounded particularly unappealing, so we decided to take the "Boggy Hole" track. This aptly named track cuts south from Hermannsburg following along the Finke River before cutting across sand dunes, ending up on the Ernest Giles road. Trending for this area, water cuts against the grain of the geology leaving breathtaking gorges and rocky outcrops.
We took a "short cut of 15km" (it was 25kms) from Wallace Rockhole that followed west along the James Range. Knowing this was going to be a sandy stretch we were somewhat ready for some long days and short distances. Little did we realise though this was going to be the hardest section of the trip thus far (over-ruling where we've stated that before) yet in retrospect also the most encouraging.
For country that was a privilege to witness it was hard as shit. Often up at 5.30am to leave by sunrise they were nine or so hour days of pushing (dragging) and very little riding through deep river sand, river pebbles, bed rock and bull dust. There were tears, sweat, blood, spinifex spikes, desert oak burrs, ridiculous water rations and grim food supplies and it was only five days through this hard stuff.
We learnt first-hand of the benefits of the matting of acacia needles to minimise erosion (and ease the pushing through sand), the value of the life source; water, soil, ecology, geology, riparian corridors, ruthless burrs and appropriate materials, wild animals, isolation, temperature variations, winds, sun and animal tracking.
Once out and onto the main road we were stretched for a lot of things and so relied on generosity of people to bring up our spirits and water rations to something realistic. We were overwhelmed and our thirst easily quenched. Two security guards even bought us meat pies on their return run, in a swift gulp we inhaled the meaty goodness and were counting our blessings leaving no more excuses but to be generous beings.
Cycling into Uluru we sketched our approach, from 50km's out the beating heart rises over the run of sand dunes slowly revealing itself. The first glimpse felt like an immense achievement, an overwhelming sense of joy and relief was all consuming. The purpose built resort did not disappoint, Owen treating himself with a full litre of milk and Bobbie – yogurt and fruit.
393 km taking eight days ranging from 20 km to 106 km depending on terrain.
Sticking out like sore thumbs, we had certainly turned Dusty & Thirsty into reality (our joke of an email being dustyandthirsty@thegrandsection.com). They say the best jokes are based in fact!
*INSERT DRAWINGS OF APPROACH?
Cheers,
Dusty & Thirsty
Edited by the Fantastic Jen Richards